Today is my first release under my new name for cuckold erotica, Victoria Kasari. It's a 36,000 word (actually a little longer because of the alternate ending) novella about a man who begins to show off his wife, enjoying the sensation of other men looking at her, but finds himself drawn into taking bigger and bigger risks. Will he take the ultimate step and allow a stranger to take her…while she's unprotected and fertile?
This one focuses more on the couple than previous stories have, with hot sex between them as well as interracial sex with the other man. If you've been looking for a cuckold story you could share with your partner then I particularly recommend this one. My female test audience really liked it. There's less reluctance on the husband's part than in my "Cuckolded" stories – it's all his idea, in fact. But that doesn't mean there's not plenty of tension, or that things don't slip out of control….
As I mentioned above, I've written this one with two endings – near the end of the book, you can choose which one you want to read (or read both!)
Watching My Wife in Jamaica is out today, and it's 99c everywhere until tomorrow! :)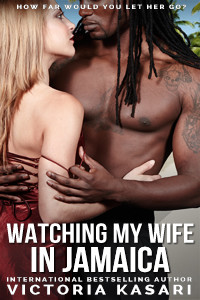 Watching My Wife in Jamaica
36,000 words plus alternate ending, male point of view. Adults only
I didn't mean to start showing off my wife. But the way the local men stared at her, undressing her with their eyes…I couldn't help it. I was overjoyed when she went along with my game, pretending to be single and flirting with the local men. All my fantasies were coming true…
But when we met Jaric, everything changed. He wasn't satisfied with just looking and flirting. He wanted to take my wife in every possible way…and without a condom. The question was: how far would I let her go?