FINALLY the new Cuckolded book, Cuckolded in Space, has gone live. This is the one that was held up because my editor, bless her, was ill. She's now better (yay!)
This is the first time I'd done a sci-fi spin on things and I'm eager to find out what you think. Early reports from those of you who have read preview copies are positive :)
This is the tale of Jack, an honest guy who just wants to do the right thing. He longs to get his gorgeous, blonde wife Eva off the overcrowded Earth and to the green fields and blue skies of the newly-terraformed Mars. There's only one problem. During an extensive medial exam (in which the dominant doctor takes every opportunity to pleasure Jack's wife right in front of him) it's discovered that Jack is infertile. And the government only wants fertile couples to send to Mars.
Lying wouldn't be so wrong…would it?
When the truth comes out, the couple are already on the five year voyage to Mars. And the captain issues a nightmare ultimatum…either the couple must return to Earth…or Jack's wife must get pregnant by another man. And Eva already has her eye on black, muscled stud Leon. Now Jack's wife is going to get the sex she's always dreamed of…and Jack's going to have to watch.
Cuckolded in Space is out now to buy for 99 cents or to borrow for free via Kindle Unlimited. I haven't settled on a firm price yet for after the offer, but it'll probably go to $2.99 in a couple of days.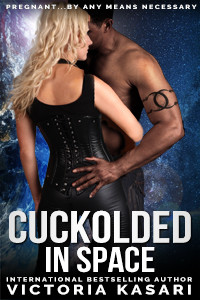 Cuckolded in Space
Male point of view, 26,000 words
They demanded my wife get pregnant…by any means necessary!
I was prepared to do anything to get myself and my gorgeous blonde wife off the overcrowded Earth and to the colony on Mars–even lie about the fact I was infertile. But when my lies were uncovered, we were told we'd have to return home…or agree to my wife getting pregnant by another man.
And not just any man. Leon, the muscled black hunk she'd been flirting with. He'd take her hard, without protection…and right in front of me. He'd give her the children I couldn't…and I could do was watch.