I'm still sort of overwhelmed by how much you've been loving this serial and THANK YOU for all the emails you've sent. It almost seems a shame to wrap it up but I always wanted this to have a definite end with a proper epilogue, so here it is. As usual, I've made episode one of the new season FREE today (and episodes one and two of Season One are also free today, so if you know someone who you think would like MWTE, then please let them know!)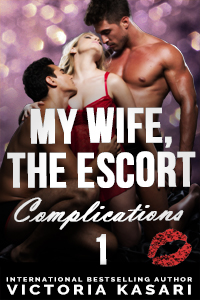 My Wife, The Escort – Complications 1
The first episode of the third and final season of My Wife, The Escort
Jared's back…and this time, he's brought his buddy.
We never expected to run into one of my wife's clients at the shopping mall. Would he suspect that she was married, or that I was her husband?
And that was only the start of our problems. Jared wanted my wife to go out with him and his buddy for drinks…and then come back to their lavish house to party. It would be Harriet's first ever outcall appointment. Would she really go through with it? And could I really watch as she entertained two men…at once?