For a very limited time, get all 12 episodes of my bestselling serial for a frankly ridiculous 99c. Hurry, because this will be $7.99 once I put the price up!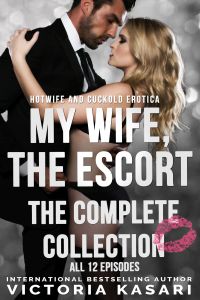 My Wife, The Escort – The Complete Collection
This box set contains all 12 episodes of my bestselling serial in one (huge) volume.
When Jack's wife, Heather, is mistaken for a high-class escort in a hotel bar, it begins a journey of exploration and excitement for the couple. What starts as a fantasy becomes a game, and what was a game becomes a profession. As Jack watches his wife with other men, will jealousy and distrust ruin their marriage…or will their shared experiences make them even stronger? And can they keep their secret life under wraps…or is everything destined to come crashing down?