Also for a very limited time, you can snap up the whole series of Cuckolded at the College Reunion for just 99c. Again, hurry because this one will be $5.99 once I put the price up.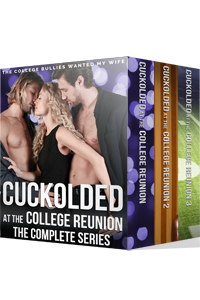 Cuckolded at the College Reunion – The Complete Series
This huge book contains all three volumes of the bestselling series.
It'll be just like old times, she said. But I didn't know what she used to do at college….
When the invitation for the reunion arrived, I figured that showing off my gorgeous wife would be the perfect way to get back at the jocks who'd bullied me. But when we got there, I was shocked to find that my long-time tormentor, Brad, was her ex-boyfriend.
I hadn't known that they'd dated. Or that my wife had a wild sexual appetite, back in her college days…and now, it had been reawakened. I could only watch, helpless, as Brad seduced her in front of me. And that was only the start of his plans for my wife….