It's a Bank Holiday here in the UK which means most of us get the day off work. To celebrate, I've made Cuckolded at the College Reunion FREE today. It's a fun and steamy romp with a lot of humiliation for the poor husband. The series is three books long. If you've been reading My Wife, The Escort then you'll find this is a bit more hardcore – be warned! :)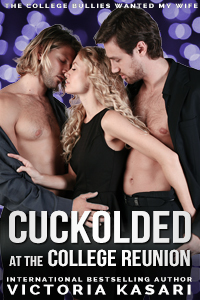 Cuckolded at the College Reunion
28,000 words, male point of view.
It'll be just like old times, she said. But I didn't know what she used to do at college….
When the invitation for the reunion arrived, I figured that showing off my gorgeous wife would be the perfect way to get back at the jocks who'd bullied me. But when we got there, I was shocked to find that my long-time tormentor, Brad, was her ex-boyfriend.
I hadn't known that they'd dated. Or that my wife had a wild sexual appetite, back in her college days…and now, it had been reawakened. I could only watch, helpless, as Brad seduced her in front of me. And that was only the start of his plans for my wife….