This one had been a real labor of love. It's by far the longest book I've written (60,000 words – for comparison, Oil Rig and Ren Faire were both closer to 30,000 words) and I really loved the research and planning that went into it. It's got a similar feel to Oil Rig and Ren Faire in terms of the sex – this is definitely more hardcore than Watching My Wife in Jamaica. But the longer length gave me more time to develop the characters into ones that I hope you'll really like :)
Because this one is so long, I'll be charging $4.99 for it. But you can pick it up today for the usual launch price of $0.99! And for once, all four retailers have gone live in time for launch, so you can pick it up at Amazon, Google, Barnes & Noble or All Romance Ebooks. Happy days! :)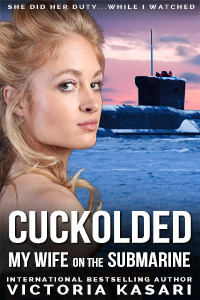 Cuckolded – My Wife on the Submarine
60,000 words, male point of view
My gorgeous, Eastern European wife and I were on board the sub to film a documentary. When the captain took a liking to her, I thought it was harmless. I enjoyed watching her flirt.
But when war broke out between our two nations, the sub was forced to dive, trapping us on board. My wife found her old loyalties ran deep and became the captain's nightly companion. And that was only the beginning. As the sole American on board, I was the enemy. Every man on board wanted to humiliate me…by taking my wife.