I've been wanting to do a serial for a while, but I know that some of you HATE being left on a cliffhanger ending. I've finally found a way around that: I'm releasing the entire serial in one go. You can either buy it all and binge-read it like a Netflix TV boxset, or you can buy it all and ration it out to yourself one book a day, or one book a week. But either way, you'll probably want to grab this one today because I'm doing my special launch day 99 cent deal on not just part one but on all three parts!
I've always loved college as a theme: jocks, geeks and cheerleaders fit so well into cuckolding. Cuckolded in College was a hit with some of you, but I know that some of you prefer the couple to be married. This story has the best of both worlds. Louis and Kim are a married couple who return to their college for their ten year reunion, only to have their relationship changed forever. It's a real journey of discovery as the husband is cuckolded by his old college nemesis, his wife's old professor and her lesbian former housemate…and that's just some of what's in store for you. Oh, and as a special treat for long-time fans, Greg, the black music producer from the original Cuckolded, makes his long-awaited reappearance!
The whole thing comes in at a fairly epic 80,000 words. Grab it now and let me know what you think! :)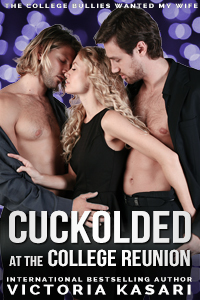 Cuckolded at the College Reunion
28,000 words, male point of view.
It'll be just like old times, she said. But I didn't know what she used to do at college….
When the invitation for the reunion arrived, I figured that showing off my gorgeous wife would be the perfect way to get back at the jocks who'd bullied me. But when we got there, I was shocked to find that my long-time tormentor, Brad, was her ex-boyfriend.
I hadn't known that they'd dated. Or that my wife had a wild sexual appetite, back in her college days…and now, it had been reawakened. I could only watch, helpless, as Brad seduced her in front of me. And that was only the start of his plans for my wife….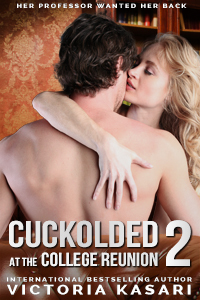 Cuckolded at the College Reunion 2
26,000 words, male point of view
I'd brought my wife back to college…now her old life had reclaimed her.
It had started when her ex-boyfriend had decided he wanted her back. He'd seduced her in front of me, but that was only the beginning. He arranged for her to run into her old college professor, a dominant older man who'd used to sleep with my wife…and who now wanted to pick up their relationship where they left off.
Meanwhile, my wife was getting closer and closer to Taylor, the sexy, lesbian cheerleader she'd used to share a house with. And Brad was still on the scene, tempting my wife into the twisted games they'd used to play together. The wife I'd thought of as shy was slowly reverting to her old self and there was nothing I could do….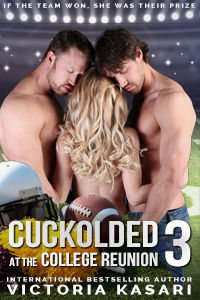 Cuckolded at the College Reunion 3
26,000 words, male point of view
Bullying jock Brad had succeeded in turning my outwardly shy wife back into the daring, sensual woman she'd been in college. I knew that she was conducting a secret affair with her lesbian former housemate, Taylor. Could I really sneak into our dorm room and hide, so that I could watch them together? What would be the consequences, if I got caught?
I could never have guessed what Brad had planned for the football game that marked the end of the reunion. To my horror, he'd persuaded Kim to take up a bet they'd first made ten years before: if his team won, she'd give herself to all of them. My wife was about to become the plaything of fourteen men…and there was nothing I could do about it….